What We Do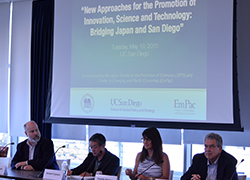 The Japan Forum for Innovation and Technology (JFIT) bridges Japan and San Diego by offering information and introductions to businesses and policymakers across the Pacific.
As part of San Diego's larger push to build stronger connections with Japan, UC San Diego's School of Global Policy and Strategy has established JFIT as a hub for interaction, exchange and collaboration, through research projects, conferences, networking events and global education programs. JFIT also provides regular information and discussion groups on the UC San Diego Campus.
JFIT has a three-pronged approach:
Research hub
Research projects on Japanese business, strategy, political economy, science and technology, and their associated domestic and global policy dimensions
UC San Diego-based research on energy policy, climate change, Industry 4.0 and new manufacturing technology, big data and their applications
Conferences that link the implications of these studies and technologies for Japan and San Diego
Networking hub
Access to the innovation ecosystems of San Diego and Japan, for scientists, scholars, entrepreneurs, innovators and investors
Regular conferences and pitching events to connect practitioners, academics, executives and students
Introductions to UC San Diego faculty, San Diego's innovation ecosystem and Japan's innovation and business community
Introductions to senior Pacific leaders through our Center on Global Transformation
Education hub
GPS "Japan Focus" track offers classes on Japanese business and politics, as well as a professional language instruction
Short-term executive education immersion programs to support professional talent development by Japanese companies for women (JUMP) and junior professionals (Global Talent Program)
About GPS
The UC San Diego School of Global Policy and Strategy (GPS) addresses the crucial societal challenges of the 21st century. The School's pioneering research builds on internationally recognized expertise of the Americas and Asia, integrates analysis of public policy and markets, and explores global issues of conflict and cooperation. 
Leveraging our West Coast location and UC San Diego's renowned programs in science and technology, GPS develops new analytic tools with real-world applications, while rigorously training the next generation of global leaders. Through collaborations across campus and counterparts around the globe, GPS shapes cutting-edge solutions for a transforming world.