Programs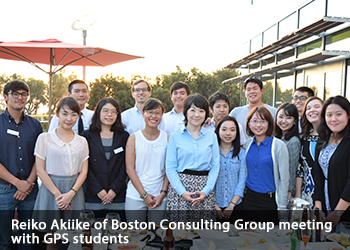 JFIT offers short-term immersion programs for Japanese professionals to increase global management skills. At a time of increased need for diversity in the workplace and global management acumen, we provide a highly individualized, tailored short-term training and networking programs.
They include JUMP 研修の概要 for female professionals in managerial positions, AIM 研修の概要 for ​managers who want to develop global open innovation management skills and the Global Talent Program グローバル人材プログラムの概要 for aspiring managers.
Overview
Our programs do not revolve around classroom instructions, but rather are anchored on skill formation exercises, personal coaching and exposure to working situations in the U.S. Program participants work with a mentor and experience how to tackle challenging work situations in real life.
The training schedule includes exercises to be effective in negotiations, how to run a global teleconference, how to present in a business setting and how to be effective in social settings. Excursions to companies in the San Diego innovation ecosystem and introduction to business networks help participants connect with local executives.
Our goal with offering these programs is to support Japan's push to raise female work participation in managerial roles, and to help Japanese professionals – female or male – the opportunity for short-term training to build skills and self-confidence so they enjoy work through success.
We do this by offering hands-on training and introduce participants to a circle of like-minded women in similar positions. While the training is in San Diego, the eventual network will be global.